Advanced Welding Program
---
Advanced carbon steel SMAW pipe welding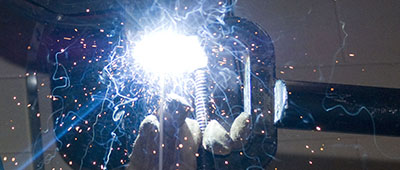 The Regional Center for Advanced Manufacturing (RCAM) is pleased to offer an 80 hour advanced welding program for the summer of 2014. This is a continuing education program designed for individuals wishing to advance their carbon steel SMAW pipe welding skills. The class will take place on Tuesdays and Thursdays from 5:00 PM to 9:00 PM starting on May 27th. The class will run for 10 weeks.
Cost: The cost of the class will be $250 and will include all supplies. Participants must provide all required personal protective equipment and tools.
Location: The RCAM is located at 305 West Main Street, Kingsport, Tennessee.
If interested, please follow the online registration link provided below. A confirmation email will be sent to you when your registration has been processed. Once you receive the confirmation email, payment can be made at the Student Services building at 222 West Main Street in downtown Kingsport.
Instructions: Click on "Add to Cart" then follow the on-line instructions to complete the registration process. If you encounter any problems, please call 423-354-5149.
Product Summary
Available Seats : 6
Tuesday and Thursday
5:00 PM to 9:00 PM